The University of New Mexico (UNM) has named clinician and public health researcher Dr. Tracie Collins as the dean of its newly established College of Population Health, effective July 2019.
Collins joins the UNM faculty after serving as the Kansas Health Foundation Distinguished Professor and chair of the Department of Preventive Medicine and Public health at the University of Kansas School of Medicine – Wichita for seven years.
Working at the University of Kansas was a "great experience" she said, noting that she collaborated with some "really wonderful" faculty, the local and state health departments, Kansas Health Foundation and developed "an opportunity to understand the rural urban health issue throughout the state and to work with others towards goals of achieving health equity."
As Collins learned more about the position and its responsibilities, she realized that it was a "great opportunity to work with good people" and "to have an impact on health outcomes."
"We are extremely fortunate to have Dr. Collins joining us at UNM," Dr. Paul B. Roth, chancellor for Health Sciences said in a UNM release. "She brings to her new position a long and illustrious record as a researcher, clinical provider and academic leader. Her experience will serve the College well."
Before her time at the University of Kansas, Collins worked as an associate professor at Baylor College of Medicine where she continued her clinical research in peripheral arterial disease and worked with several National Institutes of Health and American Diabetes Association grant-funded projects. She was a principal investigator on an American Diabetes Association funded trial to address the role of home-based walking for patients with peripheral arterial disease.
She also was a physician health services researcher at the Houston Center for Quality of Care and Utilization Services.
After looking at the data found in the studies she conducted at Baylor, the disparity was indeed there, Collins said.
"Hispanics and African Americans were more likely to undergo amputations in the VA system, as opposed to non-Hispanic Whites."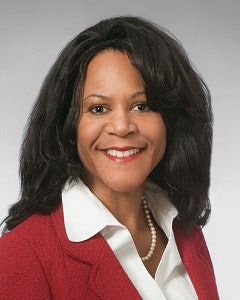 A northern California-native, Collins first became intrigued with the public health field in academia after discovering the idea that as a physician "I could have an impact on one patient at a time in clinical practice," she said, "but to really influence how we deliver care I wanted to do something more broad and that's where public health came in."
Working in public health allows Collins to continue to care for patients in addition to determining what's driving health outcomes, what the preventive measures are and what programs and policies should be implemented to make our communities healthier, she said.
After receiving a bachelor's degree in chemistry from the University of Central Oklahoma, Collins enrolled at the University of Oklahoma (OU) College of Medicine where she soon began to notice what seemed to be a higher prevalence of amputations among minority veterans.
"I was really struck by the issue of the disparity I saw at the time. … it appeared that minority veterans are more likely to undergo amputations as compared to [other] minority groups," she said.
After completing a Doctor of Medicine from the university, and later finished an internal medicine residency at OU and fellowships in ambulatory care and general internal medicine and a master's degree in public health at Harvard, Collins joined the faculty at Baylor College of Medicine.
Today, as she prepares for her new role at the College of Population Health, established in 2016, Collins said she is most looking forward to working with "wonderful people" and seeing the school grow.
In addition to serving as dean of the college, Collins hopes to continue her scholarly research, in any scope that she can. Currently, she focuses a lot of her research on physical activity and dietary habits, but said she is interested in researching mental health issues.
Population health is really about the health of a community, she said, adding that the community could be a hospital community, an outpatient clinic, in a rural area and is also the distribution of outcomes within that community.
"So if you look overall and say that when we use our metrics this community or population is pretty healthy. But you begin to dive deeper and see that there's a clear gap between outcomes based on maybe gender, race, socioeconomic status, then you have a problem where there's a disparity or a gap. And to address that you need the approach of population health management, where you're understanding the determinants of health, you're creating policies and programs to reduce that gap and improve health for everyone."
Collins said she believes the college has a critical role in improving the health of New Mexicans.
"I think we have to figure out how do we create a system where we're delivering care and meeting the needs of the patient where they exist," she said. "That includes those upstream factors, the social determinants of health."
Monica Levitan can be reached at mlevit[email protected]. You can follow her on Twitter @monlevy_