When a straightforward medical illustration of a fetus nestled within its mother's womb was posted to Instagram in December, one simple detail propelled it across the internet, where it received more than 50,000 retweets on Twitter and more than 104,000 likes on Instagram.
The detail? The mother and fetus were Black.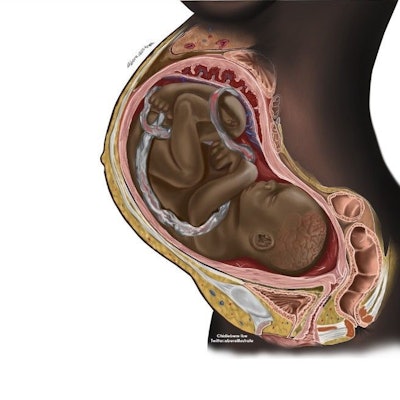 "20 years in women's health and this is the first time I have seen a Black pregnancy medical illustration ...or any Black medical illustration for that matter," wrote Dr. Notisha Massaquoi, an assistant professor in the Department of Health and Society at the University of Toronto Scarborough, on Twitter.
Other medical doctors and nurses made similar observations. Dr. Ramla N. Kasozi, a family medicine physician at the Mayo Clinic in Jacksonville, Florida, tweeted that it was her "first time seeing a medical illustration with a Black woman carrying a Black fetus."
The illustrator behind the viral picture is 25-year-old Chidiebere Ibe, a Nigerian medical student and aspiring neurosurgeon, who describes himself as a self-taught artist.
He says he first took up illustrating medical conditions and human anatomy in July 2020, when it was becoming clear that COVID-19 lockdowns weren't going anywhere anytime soon. Needing a way to make money as he prepared to enter medical school, Ibe turned to a mentor who suggested that he combine his love of art and medicine by working as a medical illustrator. By the end of the year, Ibe had become creative director of the Journal of Global Neurosurgery.
From his very first illustration, he says he intentionally chose to color Black skin.
"It was a very thoughtful [decision]," says Ibe in an interview over Zoom. "Because, when I started drawing, I had done a lot of research and I saw that all the drawings were of White skin."
He points to a University of Pennsylvania study from April 2020, which examined images within general medicine textbooks. Despite the fact that the U.S. is becoming more racially and ethnically diverse, the study found that just 4.5% of illustrations in medical textbooks showed dark skin.
"That's quite a low number," Ibe says. "And I strongly believe that if drawings are diverse and inclusive, then students will find it more interesting to study. … How many medical students are out there who have wanted to see themselves?"
Not only does he believe these drawings help others envision themselves in the medical field, but he says they also improve the level of health care patients receive, especially in fields such as dermatology where visual diagnosis can vary by the background skin type.
"For example, if a Black patient with a skin condition comes to a White doctor who doesn't have the experience of seeing [the condition on Black skin], that could be negative. So this is why drawings, if inclusive, would help mitigate their chances of misdiagnosis. It has so much to do with improving our health sector … because the foundation for improving the health care sector is education."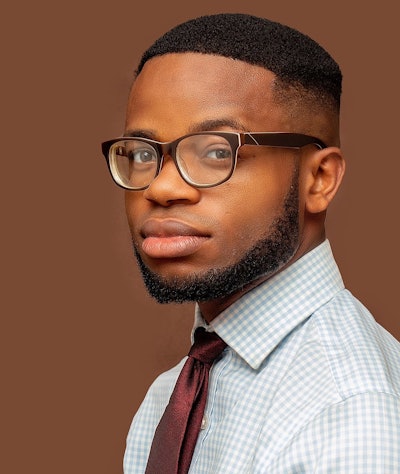 Ibe has been sharing medical illustrations on his Instagram account, "ebereillustrate," since July 2020. Since then, he's posted roughly 60 illustrations, depicting various surgical procedures and conditions, such as ovarian cancer, cervical spondylosis and measles.
"This is so necessary. I can't count the numerous hours I've spent searching for images of various skin conditions 'on black people,'" wrote one person on two illustrations featuring seborrheic dermatitis and heat rash.
Ibe says he has always wanted to pursue medicine — a goal that solidified when he lost his mother to cancer around the age of 13.
"Being a young child and going through that pain, it gave me more courage to press on forward in what I wanted and what I believed in," says Ibe, who aspires to be a pediatric neurosurgeon. "I want to give children the peace and happiness they deserve through surgery."
Having graduated with an undergraduate degree in chemistry from the University of Uyo in Nigeria, Ibe is in his first semester of medical school at Kyiv Medical University in Ukraine.
Preparing to pay for tuition, he created a GoFundMe campaign in June 2021, hoping to raise $21,400. For the first couple months, he says the campaign had raised about $190. But once his illustrations went viral, that total shot upwards. As of publication, the campaign has now raised $41,700 — nearly twice his original goal.
"I feel grateful for everything, I feel blessed about everything," he says.
He adds that he has been overwhelmed by reading the reactions of people, saying that he hadn't realized the impact his drawings were having until they went viral.
"Reading through everything and just seeing the joy, I understand that this is not just a medical illustration but a piece of art."
This article originally appeared in the February 3, 2022 edition of Diverse. Read it here.