Tuskegee University seniors Natasia Fanning and Roneshia Rudolph are part of an inaugural cohort of Registered Nurse Primary Care (RNPC) Scholars who are working collaboratively to provide quality health care and improve the health outcomes of underserved communities in the state of Alabama.
By participating in the "Building a Resilient Primary Care Registered Nursing Workforce for Chronic Disease Prevention and Control in Alabama" project – a newly created initiative between Tuskegee's School of Nursing and Allied Health and the University of Alabama at Birmingham's (UAB) School of Nursing – the students will gain, at minimum, 150 hours of training in primary care nursing through classroom and clinical experiential learning opportunities. For the Tuskegee nursing students, particularly, the opportunity will increase their capability to address health disparities in African-American communities.
"After obtaining my degree from Tuskegee University, I plan to implement it by improving the health status of African-Americans," Fanning says, "by educating them about their bodies to help them realize what's normal, encouraging them to actively participate and ask questions during an annual checkup, and to help them understand that wanting to know your health status does not make you vulnerable; it makes you knowledgeable."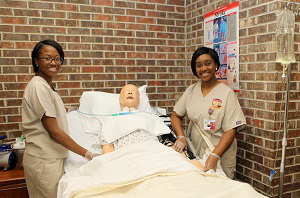 The Tuskegee-UAB initiative is funded by a four-year, $2.8 million Nursing Education, Practice, Quality and Retention (NEPQR) grant from the U.S. Department of Health and Human Services' Health Resources and Services Administration. ­The initiative will allow the two institutions to train and sustain 60 baccalaureate-prepared RNs working in team-focused primary care across areas with medical workforce shortages, according to project officials.
Dr. Maria Shirey, principal investigator of the project and professor and chair of UAB's Department of Acute, Chronic and Continuing Care, says UAB's School of Nursing has a long track record of leading chronic disease management clinics for vulnerable populations. Most of the patients who visit the clinics, she says, come with diseases that have progressed over time.
­The new grant will emphasize preventative health care and will help the RNPC Scholars, faculty and staff figure out what they can do "upstream" in the course of a patient's disease prevention and control management, Shirey says. Diabetes, hypertension, mental health and substance abuse will be the primary chronic conditions that the project addresses.
"Many patients have had hypertension for many years," Shirey adds. "What would be the outcomes for these patients" had there been preventative health measures in place or better patient education about their condition to potentially stop the progression of the disease?
"If you look at the healthcare continuum, we think of healthcare in the hospitable environment," Shirey says. However, nursing leaders at UAB found that the need for primary care and disease prevention and control is not necessarily inside the hospital but, instead, in the community.
Building nursing capacity in the community and caring for the "whole individual" is "where our students are really going to make a difference," she says.
Accordingly, the project will create a nurse-led primary care hub with six community partners, including the Providing Access to Healthcare (PATH) Clinic, the Heart FailuRe Transitional Care Services for Adults (HRTSA) Clinic, the Jefferson County Department of Health, the Macon County Department of Health and the Bessemer Neighborhood Health Clinic.
Building competency and resiliency in nursing students ­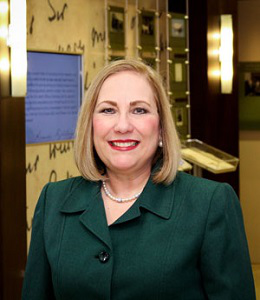 This spring, students are participating in a course designed specifically for the grant initiative. Shirey says the RNPC Scholars are learning "didactic content," such as how nursing professionals work together as part of a team or how they understand and assess community health needs and when to intervene for prevention.
Students apply this knowledge in their field experience at the clinical sites because "nursing is a practice field," Shirey points out.
"Both primary care and community health nursing competencies will be integrated, enabling students to participate in the full spectrum of community-based prevention interventions at the primary, secondary and tertiary levels," project officials say.
A significant component of the initiative is building resiliency among the nursing workforce. A resilience coach will be on staff to support RNPC Scholars, clinical mentors and faculty throughout the initiative.
"We work in a high-stress profession. If our professionals aren't equipped to cope with those challenges, they can burn out," Shirey says. "We certainly want to prevent that because we need our professionals to take care of the healthcare needs of our society."
Noting that Alabama, and more broadly the United States, is experiencing a primary care service shortage, UAB officials say their partnership with Tuskegee not only strengthens the relationship of the nursing schools, but it offers an opportunity to address health disparities in the Black Belt region of the state by educating nurses committed to serving their communities.
Tuskegee sits in Macon County, an area that has no hospital of its own, says Dr. Constance Smith Hendricks, dean of Tuskegee's School of Nursing and Allied Health. The closest hospitals are nearly 25 miles east in Auburn or west in Montgomery. There is also a federally qualified clinic in the area, but it closes at 6 p.m., Hendricks says. "People get sick after that."
"We wanted Tuskegee as an affiliate partner due to our longstanding informal relationship and synergy across our respective visions and missions," Shirey says.
"In educating undergraduate nursing students and practicing RNs in team-focused primary care, together UAB and Tuskegee will contribute toward the national call for RNs to work as partners in transforming primary care."
Hendricks says that the university is honored to partner with UAB on the initiative.
"I'm always seeking opportunities for the advancement of Tuskegee University's School of Nursing in that we are the first baccalaureate program in the state of Alabama to award a nursing degree," adds Hendricks, who is a two-time, distinguished alumna and former UAB faculty member. "Anything that I can find that will add more opportunities for our graduates, our nursing students to benefit their professional goals in the future, I'm interested in."
In addition to focusing on the common conditions that patients have such as diabetes, hypertension and heart disease, Tuskegee's RNPC Scholars will examine other disparities such as those in maternal health and deaths due to childbirth, says Alveta Reese, assistant professor of nursing and faculty adviser of the RNPC project at Tuskegee.
The two Tuskegee RNPC Scholars have classes with their UAB peers every Thursday.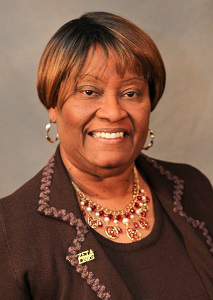 "That's the beauty of technology being a part of the grant," Hendricks says. "We are 90 miles away, but it does not prohibit them from being in the same class."
Roneshia Rudolph, another Tuskegee RNPC Scholar, says she is "very grateful" to be a part of such a "trailblazing" experience at the university. She pursued nursing because she wants to provide the care that medical professionals gave to her family when her sister had childhood cancer, she says.
Now, Rudolph hopes to take away from the Tuskegee-UAB initiative a better understanding of how important public health is to the healthcare profession in general. If there are more nurses educating and teaching patients about their health status, the levels of chronic disease that are prevalent could be reduced, she says.
Having representation in care-giving can also be impactful, Fanning and Rudolph note.
"For example, very few African-American women know how to do a self-breast examination. Unfortunately by the time they realize that something is wrong, it's too late," Fanning says. "I feel that I could potentially save someone's life or just improve their everyday living just by simply educating and breaking down the importance of knowing their health status."
"From my experience in clinical practice, no one takes care of us the way that we take care of us," Rudolph adds. Patients "feel like someone understands where they're coming from."
A priority for Dean Hendricks will be incentivizing and encouraging more Tuskegee nursing students to pursue graduate studies.
"People like to see folks that look like them," she says. "We need to help that happen with advanced-practice nursing."
Sustaining the initiative
The Tuskegee-UAB initiative is open to senior undergraduate BSN or RN-to-BSN students who have a 3.0 minimum GPA and faculty recommendation.
Throughout the program, officials will be documenting the value and impact of the project in order to continue the initiative beyond its four years of funding.
"We go in with a sustainability plan from the beginning," Shirey says, adding that an annual capacity-building summit in primary care has been incorporated into the grant.
Moreover, project officials hope that their community partners will value the RNPC students and will have positions available for them after their graduation.
"Ultimately, those students will come back and mentor the next generation of students," Shirey says. "We really need the pipeline."
Tiffany Pennamon can be reached at tpennamon@diverseeducation.com. You can follow him on Twitter @tiffanypennamon
This article first appeared in Diverse: Issues In Higher Education and appeared in the February 21, 2019 edition of Diverse.