When a 2013 report from the Association of American Medical Colleges revealed that more Black men applied to and attended medical school in 1978 than in 2011, Dr. Dale Okorodudu — with the help of his brother and a medical school friend — decided to post a YouTube video about the experiences of Black male physicians.
The effort would eventually turn into Black Men in White Coats, an initiative with the goal to increase the number of Black men entering the medical profession through mentoring, exposure and inspiration in the form of short documentary series.
Now with a Black Men In White Coats Summit scheduled this month, Okorodudu is continuing the work to increase aspiring Black male clinicians' confidence and investing in their future success.
"Along the journey, I was one of the few [Black men]. A lot of things go through your mind when you're one of the few," said Okorodudu, a pulmonary and critical care physician and assistant professor at the University of Texas Southwestern Medical Center. "We wanted to encourage people and let them know that they could achieve the same thing that we achieved."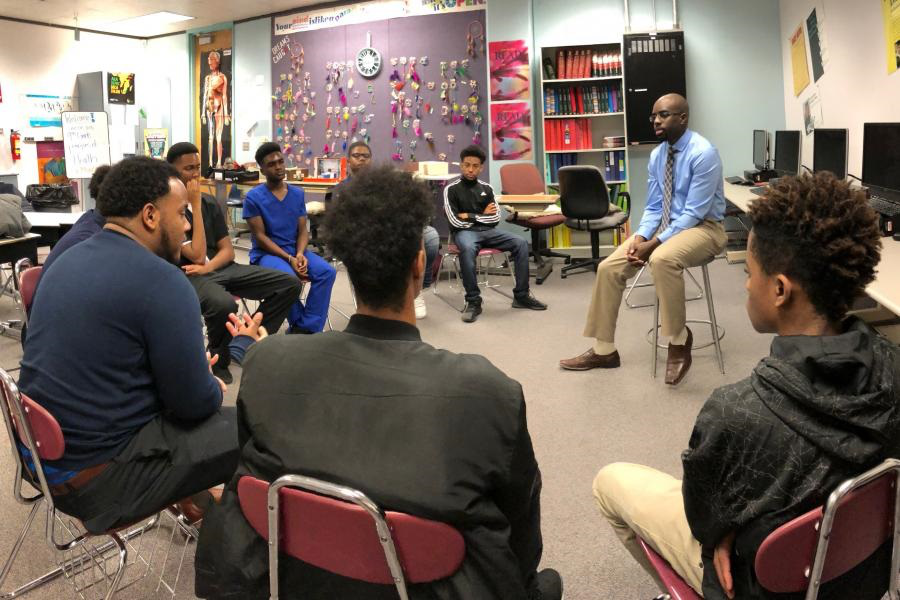 Black Men in White Coats' website features an array of video and podcast episodes sharing the insights and advice of Black males in healthcare careers. There is a video of physician and UCLA assistant professor Dr. Stanley Frencher Jr. speaking about mentorship, stress management, his upbringing in a family of doctors and his hospital's impact in the surrounding community.
Another features resident physician Dr. Kwadwo Owusu-Akyaw speaking about his experience at Duke University Health System, the importance of giving youth opportunities and the advice he lives with from his father that "you can be unapologetically Black and be unapologetically excellent" simultaneously.
Frank Olumba, a fourth year medical student at UT Southwestern Medical Center, said the video series amazed him by "portraying what I hope my future career looks like."
"It motivates me to work hard because I know all of them have sacrificed a lot to make it in a space where so few Black men succeed," he added.
Encouraged to apply to medical school by a pre-health advisor at his undergraduate institution, Olumba hopes to make an impact through mentorship as well.
"People have to know that success can be had in medicine, not just sports," he said. "That can only happen when Black success is the expectation rather than a rare exception."
Noting younger people's tendency to communicate more frequently through social media, Okorodudu and his team make it a priority to distribute the Black Men in White Coats videos and other inspirational stories on social media platforms such as Facebook and Twitter.
Similarly, the mentoring component of Black Men in White Coats — which falls under his nonprofit organization DiverseMedicine Inc. — comes in the form of a social networking model. Mentors and mentees can instant message, video chat or send direct inbox messages to each other.
"The big thing for us is we make the connection and then we empower the mentor and we empower the mentee," Okorodudu said. "What we do is we pair pre-medical students with either medical students or physicians. That way, they have a mentor and then we'll give [the mentor] the curriculum."
For mentors who may feel that they might be too removed from medical school to assist students, Okorodudu says, "Don't worry about that. We'll show you how to do it."
Curriculum for the student mentees covers topics such as what they need to know about applying to medical school, how to build relationships with professors to secure solid letters of recommendations and what they should expect to see on the MCAT.
"Every month, it's a different topic depending on what stage you are in your professional journey," Okorodudu said of the curriculum. A mentor working with a third year college student, for instance, might ask them, "What resources are you using to prepare for the MCAT?" or "Have you started asking for recommendation letters from your professors?"
"We just make sure the mentor knows exactly what the student should be doing at that point of their career," Okorodudu said.
Black Men in White Coat's impact trickles down to high school students, exposing them early on to the possibilities of a career in medicine.
Daniel Dunn Jr., a senior interested in neurology at North Mesquite High School in Texas, said, "Seeing other Black men actually be doctors is inspiring. It lets me know that I can actually do it if I just work for it."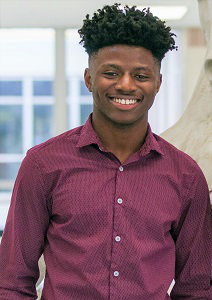 "I've always had an idea that I wanted to be a doctor," Dunn added, and after he had the chance to speak with a neurosurgeon, "it just clicked."
Dunn has already begun researching medical schools such as the University of Chicago and Johns Hopkins University in Baltimore. Although he has not been paired with a Black Men in White Coats mentor yet, he will have the opportunity to do so when he arrives on campus at Harding University in the fall on a full scholarship.
Black Men in White Coats not only inspires Dunn, the initiative is inspiring to other students at his school as well because it gives them — even those who initially did not know much about medical careers — an opportunity to learn about and go into the field, he said.
A Black Men in White Coats Summit at UT Southwestern Medical Center on Feb. 16 will bring together more than 1,400 students, parents, educators, clinicians and community leaders to increase students' confidence and impart knowledge that they, too, can become doctors, physician assistants, physical therapists, psychiatrists or other medical professionals.
One section of Okorodudu's book How to Raise a Doctor: Wisdom from Parents Who Did It speaks to the power of setting high expectations for students. With two Black boys of his own, Okorodudu said empowering youth starts with parents and extends to their teachers, coaches and friends.
"When all of those people have high expectations for your child, it's going to cause them to rise up and perform at a higher level," the physician said.
Tiffany Pennamon can be reached at tpennamon@diverseeducation.com. You can follow her on Twitter @tiffanypennamon.
This article first appeared in Diverse: Issues In Higher Education.