ROANOKE, Va. — Two rising Hampton University juniors have already been guaranteed admission to the Virginia Tech Carilion School of Medicine, a year ahead of when most of their peers will even start applying.
Kaia Amoah, 19, and Kenya Swilling, 18, are part of the fledgling VTC-Hampton University diversity program, launched this year by the two schools to address the disparate representation of minorities in health fields compared to their percentage of the population.
Data from the Association of American Medical Colleges show that just 6 percent of students enrolled in medical school last year were African-American. The disparity isn't just among students: In 2013, 26,733 of the nation's 34,011 medical school professors were white, according to association data.
Lauren Wiley, student coordinator at VTC, said the diversity program accepts two students fro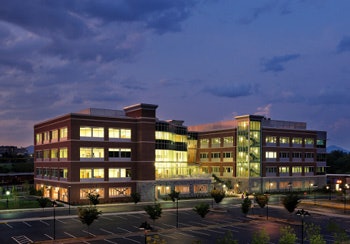 Hampton University who express an interest in science and medicine. She said VTC decided to partner with Hampton because it is a historically black university that has had a lot of success with its pre-med program.
VTC Dean Cynda Johnson stressed the importance of the program in preparing these students for medical school, saying students from underserved areas often do not have as much experience. The early preparation and role modeling the program offers foster continued success, she said.
Forty percent of the students in VTC's class of 2019, who just arrived on campus, are from underrepresented racial groups — African-Americans, Hispanics and Native Americans — or are first-generation students or from economically disadvantaged backgrounds, the school said. That compares to 30 percent last year.
Amoah and Swilling spent 10 weeks interning with professors from VTC.
Amoah, who's from Cincinnati, said the program includes not only research, but also clinical studies, preparation for the MCAT and guidance from the admissions counselors on applying to medical school. Although the two students are guaranteed acceptance to VTC after their graduation in 2017 — as long as they continue to meet academic benchmarks — it is not binding. Both said this freedom contributed to their choice of the program.
"This (program) has the most prep in a lot of different areas," Amoah said. "They really invest in you, but you have the freedom to decide where you want to go at the end."
Amoah said she wants to make a change in the medical field. For her, the lack of diversity is personal.
"A lot of my family members don't really go to the doctor because they don't really have trust in their physicians," she said. "So I want to rebuild that physician-patient trust among African-Americans and their doctors."
Amoah aims to have a career in dermatology or neonatology, or as an ER physician. This summer, she worked to determine how to stop rotavirus replication. She looks at this internship as a stepping stone in her preparations for medical school.
In the program's inaugural year, representatives from both institutions have praised its success.
"I'm really excited because this is new and we're just trying it out," said Johnson. "And I think we hit a home run at our first at-bat here."
Swilling, a native of Hampton who's currently in a pre-med program, said the program is making her dreams more of a reality.
"Since I was young I knew what I wanted to do and I strived to do that," she said.
After this summer, Swilling said she realizes the importance of diversity in medicine. She said that African-Americans are often unaware of potential opportunities related to careers in the field. But she hopes to pursue a career in pediatrics, anesthesiology or child adolescent psychiatry. At VTC, Swilling studied disease visual systems, analyzing how synapses form in the brain.
This summer program is part of a larger organization at Virginia Tech called Multicultural Academic Opportunities Program. The program was founded in 1993 and provides many experiences for its 37 participants, including seminars on how to conduct research and how to narrow their field of interest.
Amoah and Swilling have been living on the Tech campus this summer with the other students. They said they connected with the students who have similar academic aspirations and used it as a networking opportunity.
Both will be back next summer, when they will focus on clinical work and MCAT preparation.
Michelle Penn-Marshall, chairwoman of the department of biological sciences at Hampton University, reiterated the barriers to minorities. "It's not because of ability, but because of opportunity, or lack thereof," that one may see differences in the transcripts and standardized test scores of minority applicants, she said.
"I really appreciate the visionaries who came up with the idea and the people who were able to implement it," she said.
Amoah and Swilling were selected from a pool of 12 applicants.
"They came forth as bright and shining stars who were going to stick with the program," Penn-Marshall said.