Dr. Consuelo Wilkins, associate professor of medicine and executive director of the Meharry-Vanderbilt Alliance, has been appointed vice president for health equity at Vanderbilt University Medical Center (VUMC) and associate dean for health equity at Vanderbilt University School of Medicine (VUSM).
Wilkins, a health equity advocate with expertise on how socioeconomic disparities impact health, first became interested in health while growing up in a small town in Mississippi where she was exposed to impoverished environments and limited access to health care resources.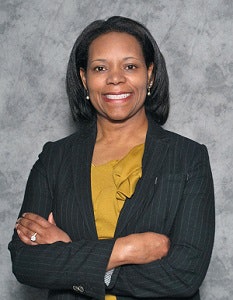 "I saw many people around me suffering from health conditions that I imagined there was more that we could do," Wilkins said. "So that theme of being interested in health equity, even when I didn't know what it was, started very early for me."
After completing her Doctor of Medicine degree from Howard University's College of Medicine, Wilkins completed a residency training in internal medicine at Duke University Medical Center and a geriatric medicine fellowship at Washington University School of Medicine in St. Louis/Barnes-Jewish Hospital.
She worked as an associate professor of internal medicine, geriatrics, surgery & psychiatry at Washington University in St. Louis for 12 years – a time that she said was where she "grew up as a researcher" and understood the needs of different communities and how those needs could be met.
While at Washington University, she was also a clinical investigator in the Alzheimer's Disease Research Center and participated in a number of community and public health programs such as the Center for Community Health and Partnerships.
In her most recent role, Wilkins helped with the establishment of the Meharry-Vanderbilt Alliance, a program focused on community engagement initiatives between both Meharry Medical College and Vanderbilt communities.
From that experience, "Just learning that the leadership at Vanderbilt was open to reimagining and expanding the focus beyond health care to more consider the social factors that impact lives … it's an amazing environment with people who are very collaborative and don't let the focus on the research rigor and the scientific and educational excellence get in the way of collaboration and new ideas," she said.
Under her new positions, Wilkins will oversee Vanderbilt's new Office of Health Equity, connecting existing community health and health equity initiatives from across the organization while scaling systemwide work to locate and address health disparities. The office will build on many existing health equity initiatives within the Institute for Medicine and Public Health and other VUMC programs.
"Through Dr. Wilkins' vision and leadership, the Meharry-Vanderbilt Alliance has flourished, and she has become the Medical Center's leader in health equity and community health — both are areas of great importance to the future of Vanderbilt and the people it serves," Dr. Jeff Balser, president and CE for VUMC, and dean of VUSM said in an announcement. "Her work with the Recruitment Innovation Center, Trial Innovation Network and the All of Us program has contributed in important ways to our position as a national leader in the research community. I am confident that under Consuelo's guidance the Medical Center will also play a national and global role in health equity."
There's a lot to look forward to, Wilkins told Diverse in a recent interview.
"I'm very excited about opportunities to work more closely with the students – the medical students have been very excited and interested in expanding their knowledge and experience with communities that are vulnerable and disproportionally impacted by poor health. They've got really so much energy and insight into how we can do this work better."
VUSM will soon launch a new program called the Certificate in Health Equity, which Wilkins believes is in high-demand by students so that they can "learn more about health equity" and "how to include it in their training and careers" post-graduation.
In addition, Wilkins said she is looking forward to addressing the health outcomes inequities within the VUSM faculty and staff to ensure that students are getting the best health care education and training needed to be successful.
"We want to make sure that we're doing our very best to understand their needs. What can we do to make sure that everyone on campus has a fair opportunity to be healthy?"
Wilkins has served on over 40 VUMC and Meharry committees and advisory boards guiding clinical, educational and research activities, something she said gives her a unique perspective of being in the middle and knowing two different environments.
Reflecting on her involvement in both institutions, Wilkins said, "It was a great opportunity to show the value of each of the institutions to the work that they might do in collaboration with each other, but also how they might involve the community, especially individuals who are disadvantaged socially and aren't often at the table."
The "absolute" best thing about working in the health field is learning from people impacted by a health condition or are disadvantaged in some way in their opportunity to be healthy, she said.
"I always learn something when I go to the community and to patients to ask questions about how they would do things differently," Wilkins said. "To me, that's really a gift to be able to speak with them, but also learning to be humble enough to recognize that their insight from their lived experience is really, truly amongst the most important things that we need to know."