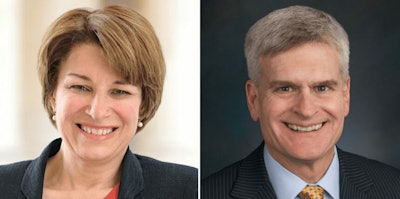 U.S. Senators Amy Klobuchar and Bill Cassidy, led five other Senators to write a January 2022 letter pressing Senate Health, Education, Labor, and Pensions Committee Chair and Ranking Member Patty Murray and Richard Burr to address hazing on college campuses in future legislation about mental and behavioral health.
"Studies have shown that hazing can intersect with concerning behaviors like high-risk substance use, sexual harassment and assault, and other forms of violence," wrote the senators in the letter. "Hazing is often overlooked and unreported, but its impact on student wellbeing and interpersonal violence is too devastating to ignore."
The letter also pointed out that alleged hazing incidents have led to five deaths in 2021 alone.
Senators Bob Casey, Raphael Warnock, Angus King, Sherrod Brown and Dianne Feinstein, signed the letter along with Klobuchar and Cassidy.
In March 2021, Klobuchar and Cassidy released the bipartisan Report and Educate About Campus Hazing (REACH) Act, which would mandate that hazing incidents be included in a college's annual crime report. The Act would also require hazing to be defined to clarify what makes up a reportable offense. In addition, REACH would mandate institutions create a campus-wide, research-based program to educate students about hazing.
The January 2022 letter urged the Committee to consider supporting the REACH Act as well.