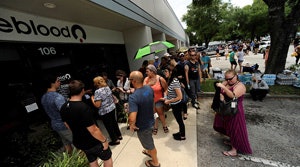 ORLANDO, Fla. — OneBlood officials were continuing to urge people to donate blood on Monday in the wake of the Orlando nightclub massacre over the weekend.
Potential donors are asked to make appointments at their local blood banks.
OneBlood officials posted videos on Facebook showing snacks and beverages donated for people waiting in long lines to give blood. Spokeswoman Stephanie Zaurin says donors are coming "in record numbers."
U.S. Food and Drug Administration spokeswoman Tara Goodin said in an email to The Associated Press that the Interorganizational Disaster Task Force met Sunday and ensured that all immediate needs for blood were met.
Goodwin said the agency appreciated the widespread desire to donate blood after the shooting. She said scheduling appointments to donate blood "will help replenish the blood supply in an organized manner, without overwhelming the system."
Meanwhile, hospital officials say they are "very optimistic" that the nightclub shooting victims being treated at Orlando Regional Medical Center will recover.
Orlando Health officials tweeted Monday that they no longer need to give "major amounts of blood" to shooting victims.
The hospital says many survivors had "multiple high-velocity" gunshot wounds and many in the intensive care unit no longer need ventilators to breathe.
The hospital holds weekly trauma simulations, along with periodic large-scale, city-wide simulations. Officials say the training left the hospital well-stocked for mass casualties.
The trauma medical director, Dr. Joseph Ibrahim, says the only thing he would change is that more victims could have gotten to the hospital sooner so that that they could have saved more people.
Hospital officials said Monday morning that five people were still in "grave condition" after they were wounded in the attack at an Orlando nightclub.
Orlando Regional Medical Center said 29 people were still at the hospital and a number of patients remained critically ill and in shock.
Six more surgeries on the victims were scheduled for Monday, a day after a gunman opened fire inside a gay nightclub. The attack left 50 people dead, including the shooter, 29-year-old Omar Mateen.