One out of every five adults In the United States has a disability, according to a study published July 30 by the Centers for Disease Control and Prevention.
"We are all at risk of having a disability at some point in our lifetime," said CDC Director Tom Frieden, M.D., M.P.H. "Health professionals and health care systems need to meet the needs of this growing population."
The Morbidity and Mortality Weekly Report (MMWR) published the new report describing the percentage of adults with disabilities in the United States living in communities. This report was based on questions used for the first time in the 2013 Behavioral Risk Factor Surveillance System (BRFSS) that allow respondents to identify specific functional types of disability, such as mobility (serious difficulty walking or climbing stairs), cognitive (serious difficulty concentrating, remembering or making decisions), vision (serious difficulty seeing), self-care (difficulty dressing or bathing) and independent living (difficulty doing errands alone).
The BRFSS is an annual, state-based telephone survey conducted by states in collaboration with CDC that gathers information on demographics, health status, health behaviors and disabilities.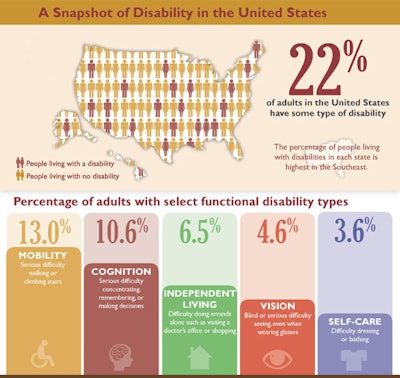 CDC said the most common form was a mobility limitation – serious difficulty walking or climbing stairs — reported by one in eight adults, followed by disability in thinking and/or memory, independent living, vision, and self-care.
The region with the highest percentages of people with disabilities was the South, including Alabama (31.5 percent), Mississippi (31.4 percent), and Tennessee (31.4 percent).
The report listed state-by-state data but did not determine why differences occur by state. However, Southern states tend to have high rates of chronic diseases, such as heart disease and diabetes, which may also be associated with disability. The lowest rates of disability were found mostly in mid-western and Rocky Mountain states.
Although anyone can have a disability, and a disability can occur at any point in a person's life, disability was more commonly reported by women, older people (65 or more years), and people in racial and ethnic minority groups.
The report revealed that non-Hispanic Black (29 percent) and Hispanic (25.9 percent) adults were more likely to have a disability than were white non-Hispanic (20.6 percent) adults.
Other key findings were:
– Over a third of adults 65 years or older reported any disability.
– Adults 45-64 years of age were more likely than other age group adults to report a cognitive disability.
– Individuals reporting a higher household income or education level were less likely to report having a disability, compared to individuals in lower income or education levels.
Commenting on the findings, Georgina Peacock, M.D., M.P.H., director of CDC's Division of Human Development and Disability, said, "For the past 25 years, the Americans with Disabilities Act (ADA) has made a positive difference in the lives of those who have disabilities by ensuring better access to buildings, transportation, and employment. Access to preventive health care is also critically important for those with disabilities."