TULSA, Okla. — After coasting to an easy victory in the race for principal chief of the Cherokee Nation, Bill John Baker said he hopes to strengthen the changes he made during his first four years in office, including increasing access to health care and creating more jobs.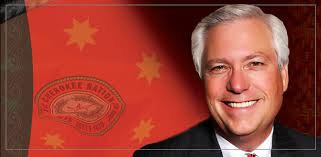 The Cherokees operate the largest tribally owned health care system in the nation, and Baker poured $100 million from casino profits into health clinic expansion and renovations during his first term. Baker credits his attention to health benefits for his decisive win last weekend, when he defeated ex-chief Chad Smith and two others to avoid a runoff after picking up 55 percent of the vote.
"Four years ago, everybody agreed that health care was at a crisis point and was the most important thing the Cherokee leader could do for the Cherokee people," Baker told The Associated Press in an interview this week. "I think Cherokees were tired of the … campaigning process of the past, and I think they were ready to hear the good news, and they could see it all around them."
Still, he and the tribe face major problems. Poverty is rampant across the tribe's vast and largely rural 14-county jurisdiction in northeastern Oklahoma, and travel to health care clinics remains difficult in some areas. Hundreds of families rely on food stamps.
American Indians also have long had lower life expectancy rates than other races in the U.S.
As principal chief, Baker leads a tribe of 320,000 people, a workforce of 9,000 and controls a budget approaching $1 billion. He also oversees the tribe's lucrative casino operations and negotiates tribal agreements, also known as compacts, with state leaders and others.
With the tribe's health and casino businesses expanding, Baker said he hopes to use the financial benefit to put more Cherokees on the tribe's payroll. The tribe's renewed effort of having members build homes for fellow Cherokees will also put more tribal members to work in laborer and construction positions, Baker said.
Smith, who ran the tribe for a dozen years before Baker defeated him in 2011, disputed the notion that Cherokee health care has improved. Smith said Baker is trying to cement a political legacy, rather than focus on difficulties still plaguing the system, such as recruiting and keeping doctors and staff to work in rural clinics.
"The deal about health care is really a red herring." Smith said. "We designed things to deliver services; he designed things to be political monuments."
Taylor Keen, a former Cherokee council member at-large and professor in the Heider College of Business at Creighton University, said the tribe has benefited in both the Smith and Baker eras.
"Smith … was lot about corporate development and growth — growing casinos and businesses — and that was a very important step," Keen said Wednesday. "Now that we've grown bigger, now it's time for access for everyday Cherokees."